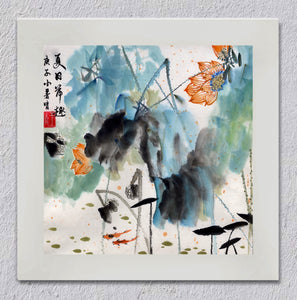 This is a high-quality Giclee print of an original brush painting created in the Chinese ancient free style on Xuan Rice paper. The original artwork was painted in the UK and has already been sold. It features imprints of stone seals carved by myself, bearing my name, and is signed and dated in Chinese.
I believe this subtle piece will add a touch of mysterious Oriental beauty, harmony, calmness, and peace to any room in your home.
I primarily painted lotus leaves using ink, but for this piece, I experimented with different colours. I particularly like how the turquoise turned out, which I achieved by mixing Phthalo blue with a hint of green. The process of playing with colours is the most enjoyable part of creating art.
Inspiration: A friend recently sent me some photos of lotus flowers from my hometown in China. They were taken during an elegant gathering (Yaji), where people played the Guqin, enjoyed plum wine, and savored lotus petals.
These images reminded me of the days when my parents used to take us to visit our local lotus lake, which stretches over 10 miles. On those hot summer days, we would have picnics by the shore, and as children, we'd run around chasing dragonflies and watch the fish in the water.
The artwork is mounted in various standard sizes and is ready for framing.

                Size 305 x 305mm (12" x 12") in white mount board
                Size 406mm x 406mm (16" x 16") in white mount board
Packaging: the artwork will be sent in a big box or protective cardboard.
Delivery: free in the UK. Please allow 5-7 days. Please email plumblossomink@gmail.com to ask about shipping costs for international delivery.

Gift options: if you are sending the artwork to someone else as a gift, please email me at plumblossomink@gmail.com to let me know. I will wrap it beautifully before dispatch.
We recommend www.frames.co.uk for frames.