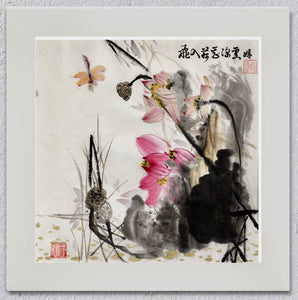 Harmony Summer Lotus  (Print)                                                             

This is a high quality giclee print of a original artwork, brush painting artwork in Chinese ancient free style on Xuan Rice paper.
The original artwork was painted in the UK and has been sold.
"Lost in the unclear fragrant and float drift!"
I

nspired by Sheng Huang's poem (Song Dynasty)



The lotus (蓮花, lián huā, 荷花, hé huā) is known as the gentleman's flower because it grows out from the mud, pure and unstained. The "he" in a man's name indicates he is either a Buddhist or connected to Buddhism. The "he" in a woman's name is a wish that she be pure and respected. 蓮 (lián) sounds similar to 聯 (lián, to bind, connect as in marriage); 戀(liàn) means to "love" while 廉 (lián) means "modesty"; 荷 (hé)sounds similar to 和 ( hé, harmony).
Mounted in standard different sizes, and ready for frame
I hope this gives you as much joy as to me. 
Packaging: the artwork will be sent in a well protected cardboard package. 
Packaging: the artwork will be sent in a cardboard tube, carefully rolled with thin protective board.
Delivery: free in the UK. Please allow 5-7 days. Please email plumblossomink@gmail.com to ask about shipping costs for international delivery.

Gift options: if you are sending the artwork to someone else as a gift, please email me at plumblossomink@gmail.com to let me know. I will wrap it beautifully before dispatch.
We recommend www.frames.co.uk for frames.