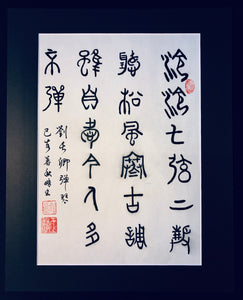 An Original artwork
Chinese calligraphy on Xuan Paper in XiaoZhuan seal script, one of the Chinese calligraphic styles

Written in the UK by Jing Wang
Playing Guqin- by Liu ChangQing (Tang Dynasty) 
Tinkling, Guqin, a seven-stringed, is played,

Listening, I feel cold wind from pine shade,

Though I like much this old tune all the way,

Not many people play it at all, today.

  彈 琴
冷冷七絃上,靜聽松風寒。
古調雖自愛,今人多不彈。 ----唐  劉長卿
Ready to frame in standard 415mm x 295mm frame. Original art

Dimensions:

Framing: unframed, so you can choose your own style and size.
Packaging: the artwork will be sent in a cardboard tube, carefully rolled with thin protective board.
Delivery: free in the UK. Please allow 5-7 days. Please email plumblossomink@gmail.com to ask about shipping costs for international delivery.

Gift options: if you are sending the artwork to someone else as a gift, please email me at plumblossomink@gmail.com to let me know. I will wrap it beautifully before dispatch.
We recommend www.frames.co.uk for frames.