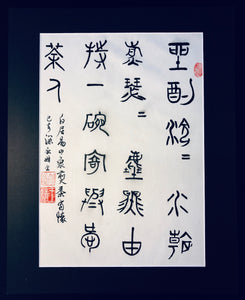 An Original artwork
Chinese calligraphy on Xuan Paper in XiaoZhuan seal script, one of the Chinese calligraphic styles

Written in the UK by Jing Wan, signed and stamped with own carved chops
by Bai JuYi(Tang Dynasty) 
     《山泉煎茶有懷》

坐酌泠泠水,看煎瑟瑟塵。
無由持一碗,寄與愛茶人。 ----唐  白居易
Meaning English:
"Thoughts while brewing tea with mountain spring water"
Sitting down and collected the cold mountain spring water,
Waiting for and watching the yellow-green tea powder brewing in tea pot,
For some reason I poured a cup of tea ,
Put it for a friend who loves tea.
A Japanese tea love friend's translation in Japanese:
山の泉の水で茶を煎じ、感ずることがあり地に座り、さらさらと流れている泉の水を汲んで賞味し、黄緑色の茶の粉末を煎じる釜を見守る。なぜか一杯の茶を用意し、茶を愛する友人のために置く。
Ready to frame in standard 420mm x 290mm frame. Original art

Dimensions:

Framing: unframed, so you can choose your own style and size.
Packaging: the artwork will be sent in a cardboard tube, carefully rolled with thin protective board.
Delivery: free in the UK. Please allow 5-7 days. Please email plumblossomink@gmail.com to ask about shipping costs for international delivery.

Gift options: if you are sending the artwork to someone else as a gift, please email me at plumblossomink@gmail.com to let me know. I will wrap it beautifully before dispatch.
We recommend www.frames.co.uk for frames.