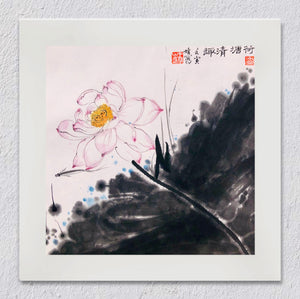 This is a high quality Giclee print of an original artwork, brush painting artwork in Chinese ancient free style on Xuan Rice paper.
The original artwork was painted in the UK and has been sold.
Chinese brush painting (sumi-e) in Brighton, UK
The original painting was painted on double Xuan rice paper, with Chinese natural inks and mineral based colours.
Signed, dated and stamped with stone seals carved by myself which one bears my name, and another is meditation.
Painted in my home studio, Plum Blossom Ink Art. 
Splash ink!
For the lotus leaves, I used splash ink Pomo skill in this painting. It was fun! 
A combination of Gongbi fine stroke line, Pomo abstract & Mogu stroke painting on untreated Xuan rice paper, with Chinese freshly made ink, mineral & natural colours.

In Chinese culture, the lotus 
symbolizes the heart and mind's ultimate purity
 because it rises untainted and beautiful from the mud. 
"Fun play in the beautiful world of lotus." That's what it says in the ancient calligraphy Lishu script "! 
A moment of zen and to be present. 
I believe this subtle will add its mysterious oriental beauty while harmony, calmness and peace to any room in your home. 
Mounted in standard different sizes, and ready for frame
I hope this gives you as much joy as to me. 
Packaging: the artwork will be sent in a well protected cardboard package. 
Delivery: free in the UK. Please allow 5-7 days. Please email plumblossomink@gmail.com to ask about shipping costs for international delivery.
Gift options: if you are sending the artwork to someone else as a gift, please email me at plumblossomink@gmail.com to let me know. I will wrap it beautifully before dispatch.
We recommend www.frames.co.uk for frames.