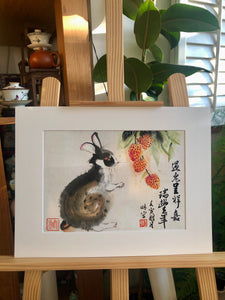 Chinese brush painting (sumi-e), painted by myself in Brighton, UK
Lucky Rabbit 2 遇兔呈祥 Wish the lucky rabbit brings you good fortune: is an original Chinese painting, or sumi-e art in another word of Plum blossoms and Rabbit. Hand painted on Xuan paper in freshly ground natural ink. 
The meaning behind of the four words Lucky Rabbit 2 遇兔呈祥:
Derived from an ancient game, some literati artists developed it into a tea-drinking game. They designed a set of tea cups in which only one cup contains a hidden rabbit. The person who receives that specific tea cup during a tea-drinking gathering will be considered lucky for the entire year.
It was created as an example for my Chinese Chinese New Year celebration workshop.
In the Chinese culture, it is said the rabbit is known to be the luckiest out of all the twelve animals. It symbolizes mercy, elegance, and beauty. People who are born in the year of the rabbit are calm and peaceful. They avoid fighting and arguing at all times, but are artistic and have good taste in life.
Have you got a family member or friend whose zodiac is rabbit? If so, does this sound right?: -)
Signed , dated and stamped with stone seals carved by myself which one bears my name, and another is plum blossom. 
Painted in my home studio, Plum Blossom Ink Art,婧梅居 .
I have also added some calligraphy artwork 遇兔呈祥 which is in Running script. It is a common greeting people use it during Chinese New Year for the rabbit year.  
✨A perfect gift to someone born in the year of rabbit, which is 2023(new born baby), 2011, 1999, 1987, 1975, 1963, 1951, 1939, 1927...2023 is a year of the Water Rabbit.❤️
Or just take this fluffy rabbit home for yourself. 😊
The original painting has been backed on another layer of Xuan paper, and on mount board. 
Dimension of the original art : in A4 size 
Dimension on mount board: 30.5 x 40.5cm (12" x 16")
Packaging: the artwork will be sent in a protected package 
Delivery: free in the UK. Please allow 5-7 days. Please email plumblossomink@gmail.com to ask about shipping costs for international delivery.

Gift options: if you are sending the artwork to someone else as a gift, please email me at plumblossomink@gmail.com to let me know. I will wrap it beautifully before dispatch.