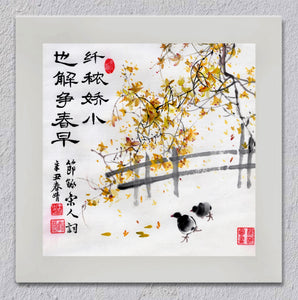 This is a high quality giclee print of an original artwork.

The original artwork was painted in my home studio, Plum Blossom Ink Art, in Fiveways Brighton, UK. 
Printed in the Brighton, UK.
"This early spring, I have discovered this blossom plant, mostly in people's front garden. The blossoms are so little but so bright & real. I even bought one. It has different names, but I quite like the one called Golden Bell.
Actually we call it Welcome Spring Flower in Chinese as they come out when there is no any other flowers around in February. They give people hope especially in grey days.  
The yellow bright colour will brighten up any walls in your home.
I have written two sentences in Lishu Clerical ancient script from a poem originally written by Song dynasty poet Zhao shixia.
It says:  "Slim and petite, but knows how to fight for early spring. "
Stamped with a custom stone seal "As one wishes" also carved by me.  
In 2020, Jing "
I believe this subtle will add its mysterious oriental beauty while harmony, calmness and peace to any room in your home. 
The artwork is mounted in various standard sizes and is ready for framing.

                Size 305 x 305mm (12" x 12") in white mount board
                Size 406mm x 406mm (16" x 16") in white mount board
Packaging: the artwork will be sent in a big box or protective cardboard.
Delivery: free in the UK. Please allow 5-7 days. Please email plumblossomink@gmail.com to ask about shipping costs for international delivery.

Gift options: if you are sending the artwork to someone else as a gift, please email me at plumblossomink@gmail.com to let me know. I will wrap it beautifully before dispatch.
We recommend www.frames.co.uk for frames.