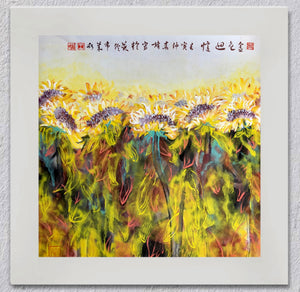 That Summer -Sunflower Memories  (Print)                                                             

This is a high quality giclee print of an original artwork.
The original artwork was painted in my home studio, Plum Blossom Ink Art, in Fiveways Brighton, UK. 
Printed in the Brighton, UK.
Inspired by summer sunflower field, I painted this beauty for Brighton Artists Open House exhibition AOH2023.
The original painting was painted on double Xuan rice paper, with Chinese natural inks and mineral colours, in contemporary style which the artist still use the traditional materials but a twist with Western oil painting techniques.   
I have added some calligraphy writing in cursive script which means Sunflower memories, also the season, year, and was painted in Brighton UK. It is read from right to left. 
Signed, dated and stamped with stone seals carved by myself. The two on the left top bear my surname and first name. The one on the top right means meditation. And the one at bottom left means best wishes. 
This vivid yellow brings back great memories of my visit to the south of France. I hope this gives you as much joy as to me. 
I hope this gives you as much joy as to me. 
Mounted in standard different sizes, and ready for frame

Packaging: the artwork will be sent in a well protected cardboard package. 
Delivery: free in the UK. Please allow 5-7 days. Please email plumblossomink@gmail.com to ask about shipping costs for international delivery.

Gift options: if you are sending the artwork to someone else as a gift, please email me at plumblossomink@gmail.com to let me know. I will wrap it beautifully before dispatch.
We recommend www.frames.co.uk for frames.