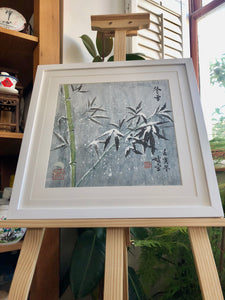 Chinese brush painting (sumi-e), painted by myself in Brighton, UK
This is an original Chinese painting, or sumi-e art in another word of snow bamboo. Hand painted on Xuan paper in freshly ground natural ink with mineral Titanium white. 
Signed, dated and stamped with stone seals carved by myself which one bears my name, and another is best wishes.
Painted in my home studio, Plum Blossom Ink Art. 
I have also added some calligraphy artwork 冬雪 which is in standard  script.
In Chinese art, the Four Gentlemen or Four Virtuous Ones, is a collective term referring to four plants: the plum blossom, the orchid, the bamboo, and the chrysanthemum. The term compares the four plants to Confucian Junzi, or "gentlemen" who has high standard of moral and ethics.
The original painting has been backed on another layer of Xuan paper. 
Framed in wood: 

the original painting art : 30.48cm x 30.48cm (12" x 12")
Framed size: 40.6cm x 40.6cm (16" x 16")
Packaging: the artwork will be sent in a well protected package. 
This is NOT a print or a reproduction, this is my original artwork.
✨A perfect gift to someone loves nature! ❤️
Delivery: free in the UK. Please allow 5-7 days. Please email plumblossomink@gmail.com to ask about shipping costs for international delivery.

Gift options: if you are sending the artwork to someone else as a gift, please email me at plumblossomink@gmail.com to let me know. I will wrap it beautifully before dispatch.